Cardinal Mini Hugger Floor Scale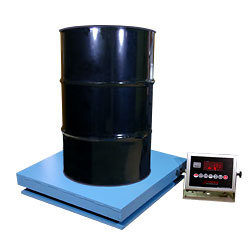 Great for industrial applications, Cardinal's Mini Hugger floor scale is rugged enough for everyday use in the busiest of warehouses. Cardinal's heavy duty load cell and 1/2 inch thick steel deck plate mean low maintenance and high performance. Add a Cardinal 200 series indicator (such as the 205 shown) and you'll have a weighing system to get the job done accurately and reliably.
Capacity: 600 lb x 0.2 lb

Cardinal Floor Hugger Floor Scale
Rapid, accurate weighing translates into optimum performance in any operation, and Cardinal's Floor Hugger helps you reach that goal. This above-ground platform scale provides you with the latest in weighing technology. Cardinal's unique load cell assembly is self-checking and environmentally sealed for those less-than-perfect locations.

Cardinal Run-A-Weigh Portable Drum Scale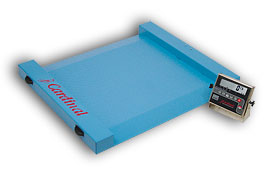 Weighing in at less than 100 pounds and featuring built-in handles and wheels, the Run-A-Weigh is easy to lift and roll to wherever you need it. Whether it's multiple weighing locations at a single facility or the need to take a scale to special job sites, the Run-A-Weigh gives you true portability.
If you need a general purpose scale, a scale for tough environments, or a scale for washdown applications, Cardinal has the right system for you. We offer enclosures in stainless steel or stainless steel NEMA 4X/IP66.
Designed for weighing "on-the-move"
Cardinal 854F
Portable, mechanical platform scale

5852F-204 / 8852F-204 Platform Scales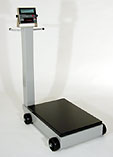 These digital portable platform scales let the weighing come to you. Portable and attractive, the 5852F-204 weighs in increments of .2 lbs up to 500 lbs. The platform size is 19 inches wide by 28 inches deep and the shipping weight is 108 lbs. For higher capacity needs, ask for the 8852F-204 digital portable platform scale which weighs in increments of .5 lbs up to 1,000 lbs. They're powered by 6 "C" size Alkaline batteries (not included).

Low-Profile Railway Scale - LPRA Series
Mounted above ground in a shallow, concrete foundation, so there is no worry about shifting ballast resulting in weight errors.

Cardinal MECHANICAL FLOOR STAND TANK AND HOPPER SCALES

Custom Designed and Manufactured to Meet Any Specification
Cardinal Hopper and Tank Scales are designed for use in wineries and breweries, soap, oil, paint, glass, chemical, and mineral plants, or wherever a liquid or material portioning device is needed. These scales are excellent for inventory control, for weigh-in or weigh-out operations, for blending or proportioning of any liquid or free-flowing material.
Tanks and/or hoppers are usually furnished by the customer. Cardinal tank and hopper scales can be supplied in a wide range of sizes and shapes


WinVRS Vehicle Tracking System
Optimized for Windows 2000 and XP®, Cardinal's powerful WinVRS software keeps traffic moving over your scale by providing fast, accurate collection of data on vehicles, accounts, orders, and materials. Unique, user-defined fields allow you to easily configure the system to meet your needs. A wide range of reports are available to provide period histories, material totals, customer information and more. WinVRS's convenient file utilities menu allows data to be exported to other applications such as accounting and materials control.

Cardinal also specializes in aftermarket support. All WinVRS systems include a full year's support from Cardinal's technical support group, who can connect directly to your system for system diagnostics and application analysis from your location.

Detecto PS-7
Digital Portion Control Scales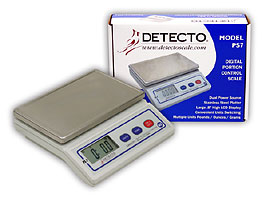 Capacity: 7 lb x 0.1 oz, 112 oz x 0.1 oz, 112 oz x 1/8 oz, 3000 g x 1 g, 7 lb x 0.005 lb
Platform Size: 8.02" W x 4.96" D
HSDC
"Legal for Trade" Hanging Digital Scales
Display: 1"/25mm high LCD
Power: 6 "C" size alkaline batteries